Eugenia Gortsila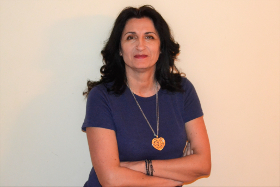 Eugenia Gortsila
is a graduate of the Department of Physical Education and Sport Science (DPESS) of the ARISTOTLE UNIVERSITY OF THESSALONIKI (AUTh).

She holds a postgraduate degree from the same department (DPESS of AUTh) on "Human performance and health", as well as on the direction of "Coaching of Team Sports". In 2014, she completed her doctorate on the field of "Exercise Biology", entitled "The effect of coaching volleyball in indoor sports halls and on sand courts on the physical abilities of pre-adolescent girls", at the DPESS of the National and Kapodistrian University of Athens.

She has participated in training courses at Universities in Greece and abroad, concerning the subject matter of her specialization, as well as other subject matters, such as Educational Organization and Management, Nutrition in Childhood and Adolescence, Prevention and Handling of School Violence and Bullying, Pedagogical Approach for Modern Schools, Evolution to Multicultural Schools and Motivation of Teachers, Voluntarism and Civil Society etc.
Professional Experience
She has worked for almost 15 years as a PE11 – Physical Education teacher in Secondary Education.
She has a several-year teaching experience in tertiary education, both on an undergraduate and on a postgraduate level.
From 2011 to 2015, she was Headmistress at a Secondary education school.
From 1996 to 2004, she was Technical Manager of the Hellenic Volleyball Federation at the National Developmental Sports Support System of the General Secretariat of Sports.
Since 2016, she has been working by secondment in IEP as a Β' PE11 Consultant.
From 2016 to 2018, she has also been a member of the Special Education Unit in IEP.
Scientific/Research Interests
Her scientific interests are mainly focused on subjects related to Physical Education and Sports teaching.
She is the author of publications in scientific conferences and magazines, both in Greece and abroad, and she has been a member of Organizational and Scientific Conference Committees. She is also an arbiter for scientific magazines.
She has been a key player for the National Women's and Women's Youth Volleyball Teams, where she gained a lot of distinctions, and she earned the title of Greek Champion three times.
She has been 1st National Team Coach for the National Women's, Women's Youth and Women's Junior Teams and gained a lot of distinctions.
She has been a Principal and a Trainer in Coaching schools of the General Secretariat of Sports.
She is a trainer of Physical Education Teachers in Planned Curriculums and in Innovative Teaching seminars for the primary and secondary education
Within the scope of her employment at the IEP, she has been a member of IEP Work Groups and Committees.
Within the scope of project/program implementations, she has worked as:
HFC Head of the European program Εrasmus+SPORT: "Identification and Motivation of inactive youth who mostly need Physical ACTivity".
Member of the Work Group of the NSRF project "Training in support practices for students within the scope of Differentiated Teaching" MIS5032906.
Member of the Work Group of the NSRF project "Global Planning and Development of Accessible Digital Education Material" MIS5001313.
Member of the group for the editing of books for the weak-sighted