IMPACT Project
Identification and Motivation of inactive youth who mostly need Physical ACTivity
[Erasmus+]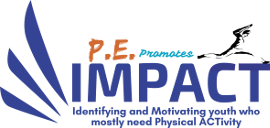 The European project Erasmus+ Sport «IMPACT - Identification and Motivation of inactive youth who mostly need Physical ACTivity» is an international innovative project, which aims at supporting scientifically the promotion of participation in sports and the physical activity of pupils who do not participate in sports and exercise and especially of those belonging to vulnerable social groups. To this aim a "European Roadmap" will be created by the policy-making agencies in order to develop a coordinated strategy.
The project is addressed to Primary and Secondary Education students who do not participate in sports or exercise, with special emphasis on vulnerable groups which show the lowest percentages of sport participation and activity according to relevant surveys.
More specifically, the project includes: a) teacher's participation in e-seminars in order to become familiar with the basic tools of the project b) production of teaching-training material c) implementation of the project in the classroom through innovative teaching scenarios applied by the teachers in the framework of implementing an "IMPACT Project ". During the implementation of the project, teachers' efforts will be supported both in-person and via distance- learning d) evaluation of the project implementation.
In total, 12 partners from 8 countries participate in the IMPACT Project: 2 Education Ministries, 6 Universities, 1 Public Institute and 3 Physical Education Teachers' Unions. The participating countries are Greece, Italy, Turkey, Spain, France, England, Switzerland, Germany. It is financed by the European Programme Erasmus+ Sport and is being implemented within a 3-year period (01/01/2017-30/12/2019).
Project Manager for I.E.P.: Eugenia Gortzila